Please note during winter hours the 6:00 pm evening inspection times are only available for properties not requiring exterior inspections. If your property requires an exterior inspection please book your inspection during daylight hours. Thank you!
TRUST OUR EXPERIENCE & TECHNOLOGY
Why book a home inspection with Xplortek?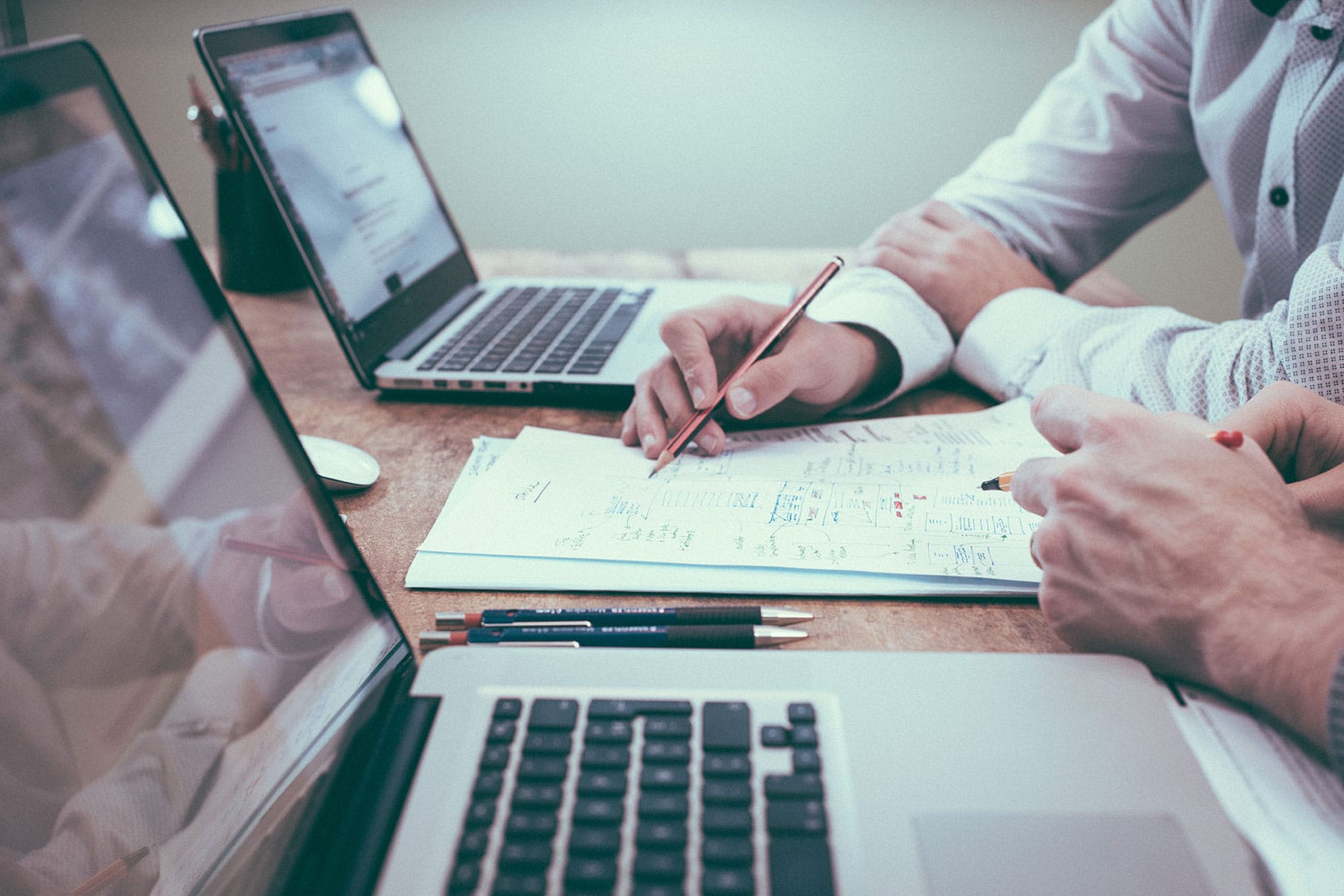 EDMONTON HOME & PROPERTY INSPECTIONS
Service, Above & Beyond.
From drone inspections above your roof to water damage within walls beyond where the eye can see, Xplortek has the tools and experience to thoroughly inspect your home.
We're here to help with professional property inspections done in a timely manner and quick reporting.
TECH TOOLS & EXPERIENCED INSPECTORS
Tech Savvy Edmonton Home Inspections
Xplortek combines the latest tools with decades of experience to ensure you, as a buyer, seller, or key stakeholder, have the information you need. We perform our work with a devoted team of two inspectors on each job recording detailed information about the property. We then compile an electronic report and send it to you within hours of inspection, so you have timely information at your disposal.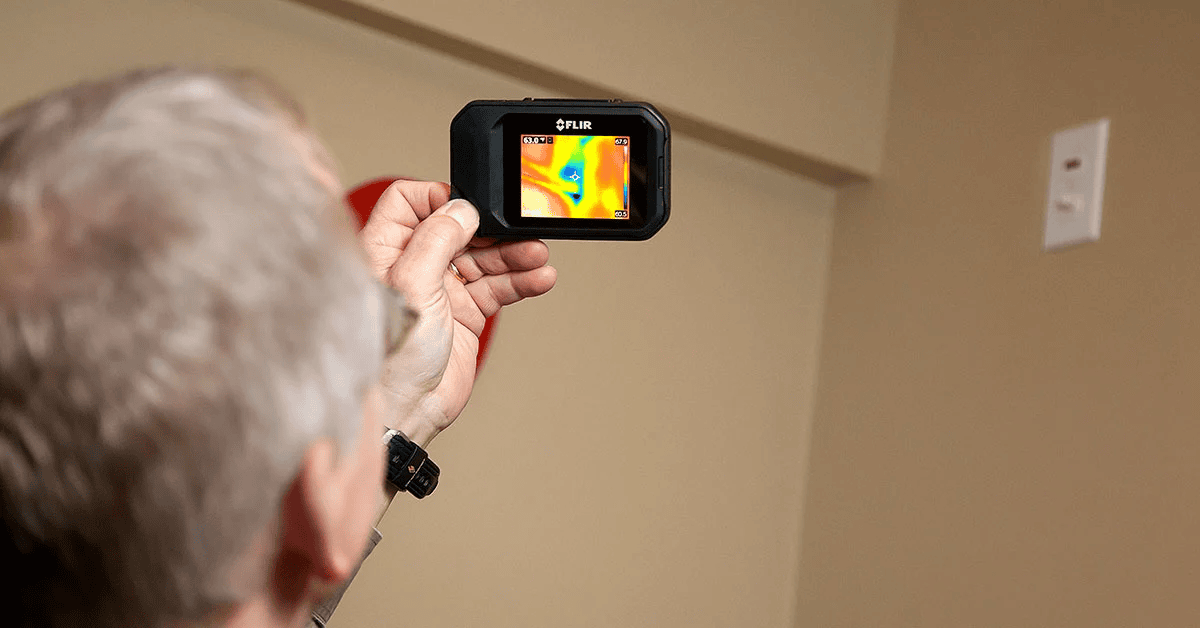 Infrared Thermography
Xplortek utilizes infrared thermography (IR) in all of its property inspections. While we can't "see through walls", this is about as close as we can get. IR can allow our inspectors to see areas of significant energy loss under certain thermal conditions, see current or residual moisture from plumbing leaks, or some overheated electrical areas. We have gained insight into normal thermal conditions and abnormal ones, gained through hundreds of thermal analyses.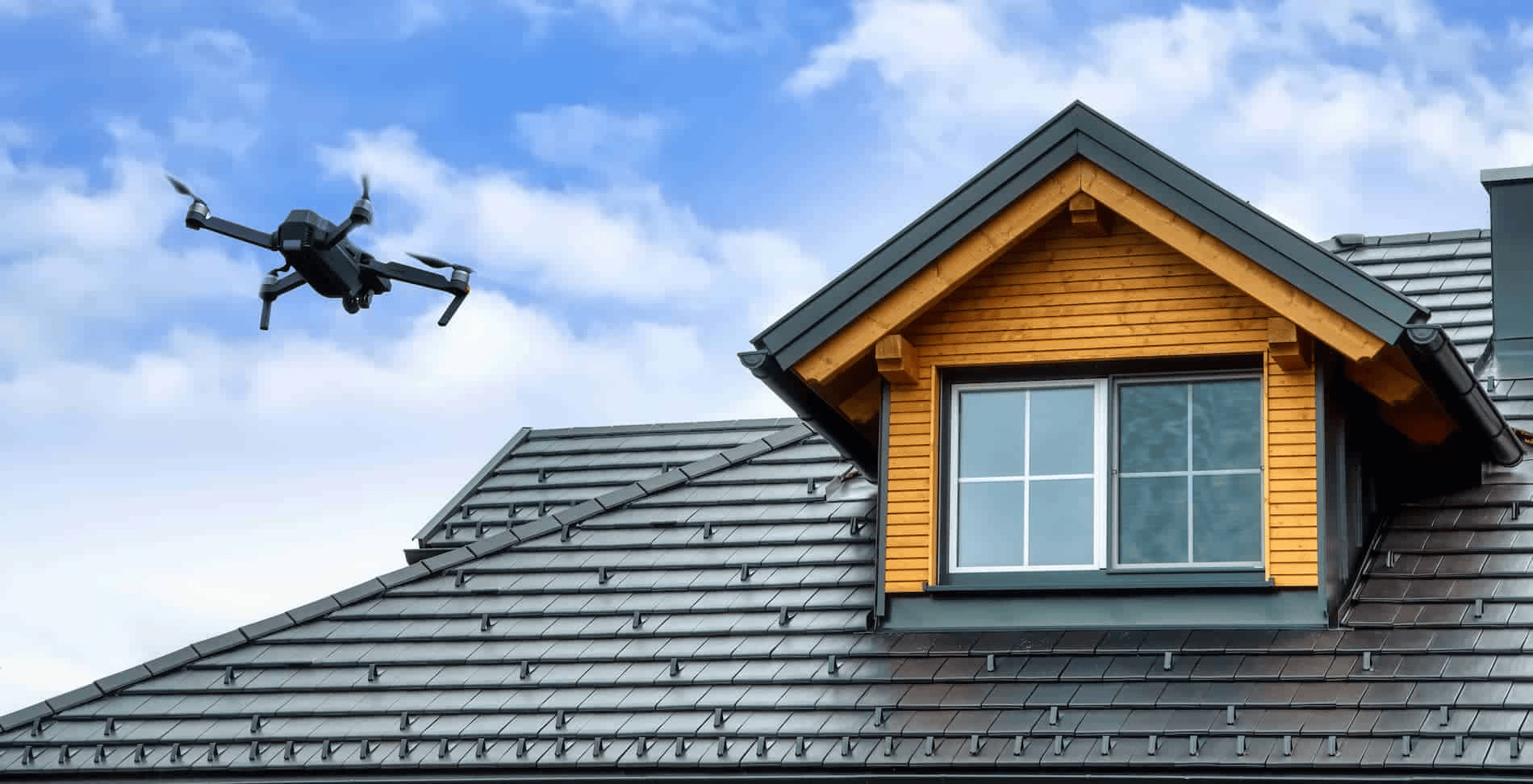 Drone Roof Inspections
Roof inspections can be unpredictable for home inspectors due to their height, weather conditions and ability to access certain slopes or areas. We have adopted drone inspections for our work, as we can better view roof slopes and otherwise inaccessible areas. We find we can be more complete and detailed by using this newer technology and embedding those results directly in the report. No roof is too high anymore!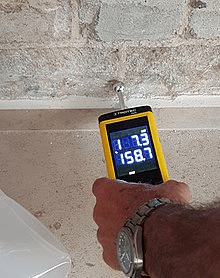 Moisture Meters
Moisture meters, used in combination with infrared thermography, give our inspectors even more reliable information regarding subsurface moisture conditions. These key diagnostic tools are a staple of our property inspections.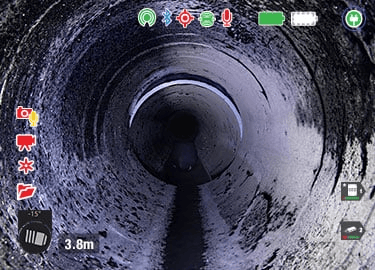 Sewer Cameras
We have added sewer inspections to our available additional services as a basic visual exterior inspections of some piping does not reliably give the whole picture of what is going on with the system. We can confirm whether or not a main sewer output line is free of apparent problems, or if if there are wear, vegetation or physical damages that are hidden from sight. No older home should go without this additional insight!
USING TECHNOLOGY TO YOUR ADVANTAGE
All The Edmonton Home Inspection Basics & More
TRUST US FOR PROFESSIONAL INSPECTION SERVICES
Certified Edmonton Home Inspectors & Property Inspections
QUICK, DETAILED, DIGITAL PROPERTY REPORTING
Our Property & Home Inspection Reports
Shortly after your inspection is complete, usually with 2 hours, we will provide you with detailed on-line property inspection report, complete with tabs for easy navigation. Tabs include information similar to those below, regarding roofing, exterior, structure, electrical, heating, insulation, plumbing, interior, and more. Sections will describe the inspections completed and make note of any deficiencies identified, and in some cases include pictures or video. You will also receive a pdf copy of your inspection report which you can download, print, or share with other interested parties.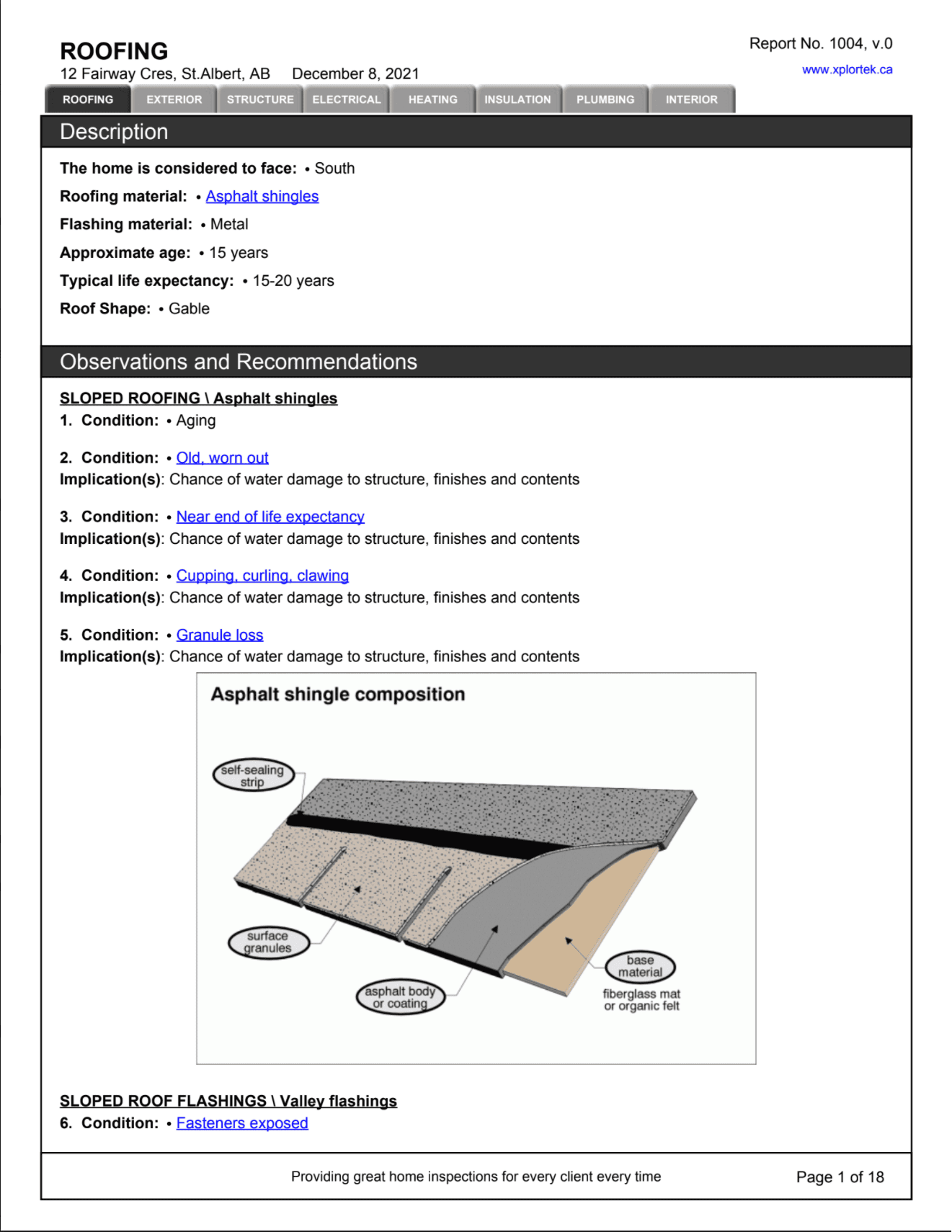 Detailed On-line Home Inspection Reports
Simply click on the reporting tabs to view details of that inspection area. Easily navigate to all reporting areas.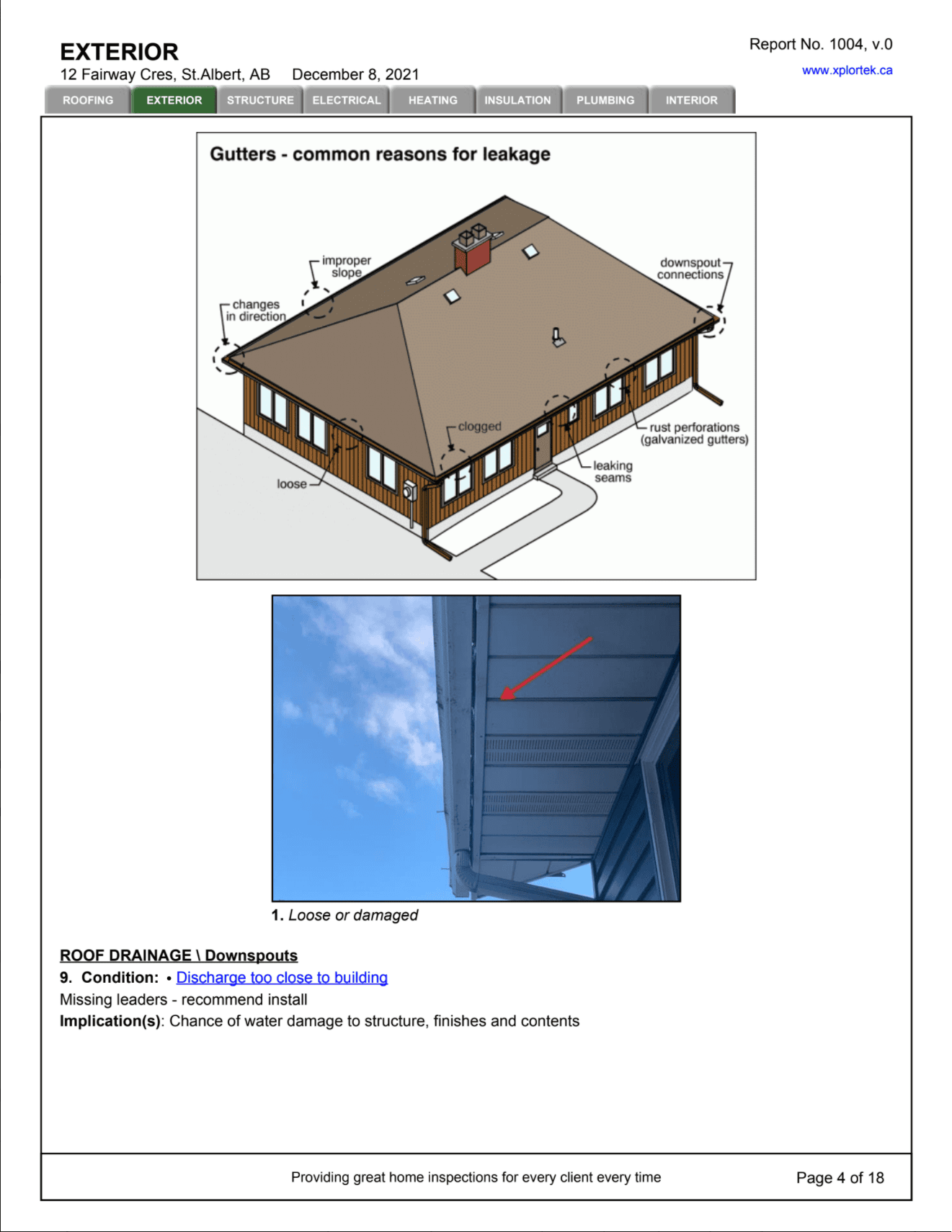 Downloadable PDF Inspection Reports
Download or share your home or property inspection reports as detailed pdf documents, or on-line reports.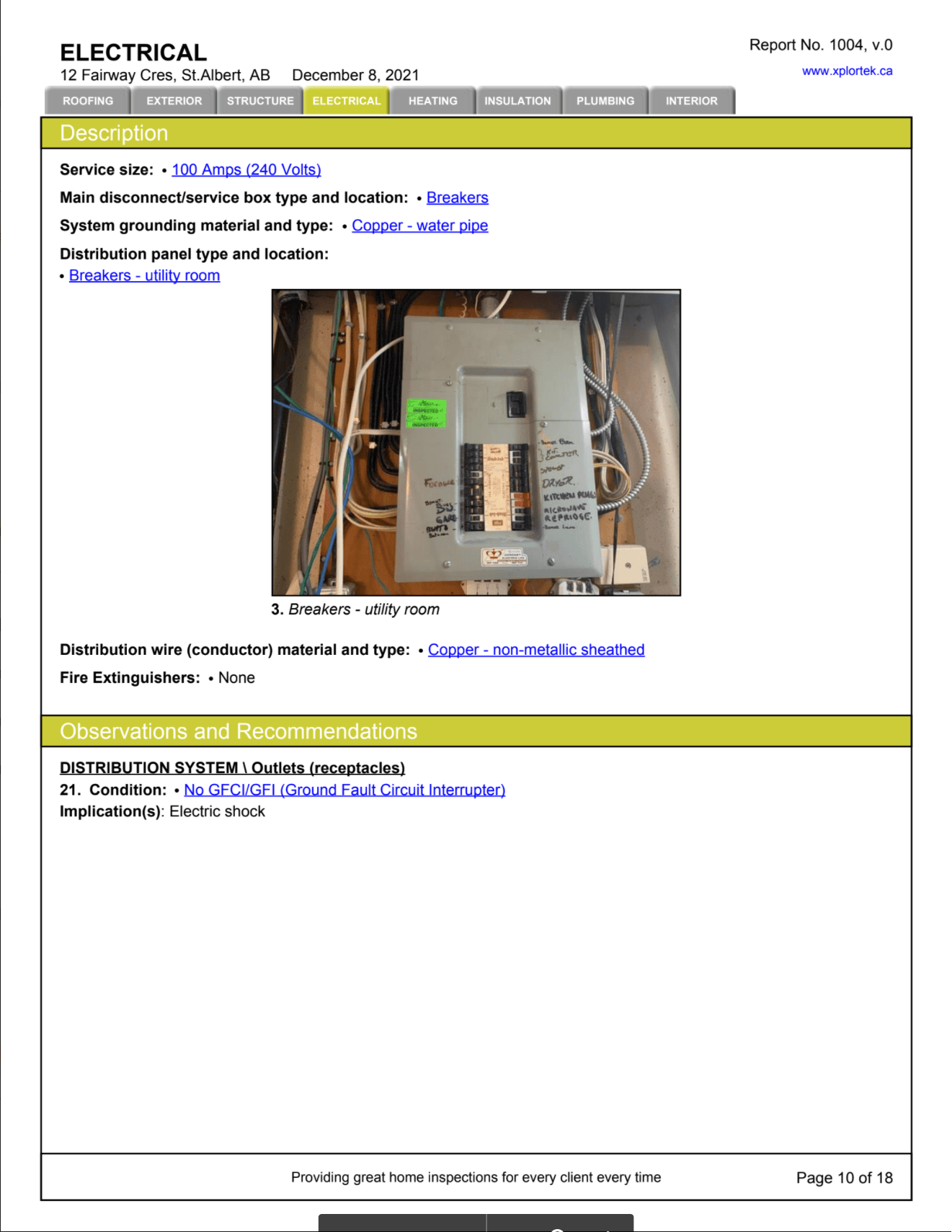 Pictures & Notes Detail Of Your Home Inspection
Reporting will provide details on any deficiencies identified, and may include multiple pictures for reference.
Count On Us!
Our Commitment
Our mission: We will use the best technology to deliver the highest value inspections on the market. We will uphold our core values of integrity and professionalism to guide our work.
Our Property Inspectors
We believe our success is directly related to the strength of our knowledgeable and experienced staff. We strive to perform at the high standard expected of professional property inspectors and earn your trust through exceptional service.
FAQ – Edmonton Home Inspections
How much does a property or home inspection cost in the Edmonton area?
Our base rates for property or home inspections vary between $250 for a simple apartment condo to $800 or more for a large home.  The average cost for an Edmonton home inspection is $550. Property inspection costs will vary depending on the size of the home or building being inspected as well as the building type.  We offer a variety of additional value-added services beyond our base standard inspection. For example, on any older home we encourage you to perform a sewer scope at the same time of your inspection. Learn more.
Do I have to sign anything?
Your inspection contract is issued to you electronically at the time of booking for your signature, and is legally required in advance of us performing work for your protection.

When do I receive my report?
We summarize our findings right at the end of your inspection. Your report is compiled the same day of your inspection, frequently delivered within an hour of the completion of your job.

Can I walk along with the inspector during the inspection?
 We do encourage you to ask any key area of concern at the beginning of the inspection as we give our orientation to the work we intend to provide.  We then give you the opportunity to check out the house again independently while we complete the inspection ourselves, fully documenting and focusing on the work at hand.  We will then run through the key components of our inspection findings at the end of the inspection, and orient you to the key systems of the home and their function.
Is there a charge for cancellations?
We understand that buying a home can be a rapidly changing process, which is why we suggest working with a realtor with your needs at heart and a mortgage broker who has ensured that you are pre-approved for the home you are looking to buy. In this way you will not need to cancel your inspection last-minute due to financing challenges.  It is for this reason that we only charge a 50% fee for cancellations made a mere 24 hours in advance of your booking.  We respect the value of your time and expect the same in return.
How much does a property inspection cost?
Property Inspections will vary depending on the size of the home or building being inspected, as well as the building type, and any non-standard inspections required. See our Edmonton home inspection pricing here.
How long does a property inspection take?
Xplortek property inspections typically take a few hours. We use two inspectors for our property inspectors, ensuring two professional inspectors view your subject property, and that your inspection will be complete d in a timely manner, and available on-line shortly after completion.
What is included in a home inspection in Alberta?
A standard home inspection in Alberta will include over 100 items that are examined, including the building's interior, exterior, heating, cooling, electrical, plumbing systems, and more. See an expanded list of home inspection criteria here.
Our Latest Home Inspection Blog
Welcome To Xplortek Home Inspections Edmonton
Joe Yaretz
—— Founder & Experienced Home Inspector
Welcome to Xplortek Property Inspections. The purchase or sale of a home or property is a big transaction, and a top quality inspection should be a part of that transaction. We're here to help.
"We aim to make property inspections easy to schedule, high quality, and timely, so clients can make confident decisions for their property transaction."
WE LOVE HAPPY CUSTOMERS
Top-Rated Home Inspection Reviews
Home & Property Inspections Greater Edmonton Service Area